Greg Zbach – PhotoArtist                 "The art is in the telling"
My music CD's – "The Seasons"
The Seasons – Music for Dance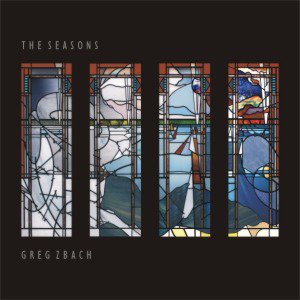 Stained glass by John Vahanian; Layout by Jim Zbach
Music composed, performed, and recorded by Greg Zbach. Digitally mastered at Studio Z
Written for modern dance, "The Seasons" consists of instrumental tone poems composed in the "New Age" style and includes the suite: "Images of Home." "The Seasons" recreates in music, the imagery and feelings of six memorable encounters with nature in the composer's home town of Erie, Pennsylvania.
1. FALL
4:37
Play >>>
2. WINTER
4:24
Play >>>
a. Quiet After the Storm
b. Brisk Reality
c. Snow Steps
d. The Wonder
3. SPRING
6:53
Play >>>
a. Winter's Last Breath
b. Signs of Spring
c. Spring Fever
SUMMER – IMAGES OF HOME
4. Dawn – Morning
6:33
Play >>>
5. Rain Dances
10:10
Play >>>
a. Lazy Afternoon
b. Changes in the Air
c. Storm Warnings
d. Rain Dancing
1. Onset of Rain
2. Cloudburst
3. The Cleansing
e. Bright New Day
6. Night Sounds – Evening
6:13
Play >>>
Total Length 38:50
PRESS RELEASE – MARCH 3RD, 1998
GREG ZBACH RELEASES INSTRUMENTAL MUSIC CD
"THE SEASONS – MUSIC FOR DANCE"
There have always been powerful forces working in Greg's life!
A fascination with electronics insured a degree in engineering. A love of the arts, and a strong belief in the independent artist, led to a position on the board of the Erie Area Summer Festival of the Arts, and the formation of a sound studio. But the most powerful force was a simple dream, a dream to compose. This dream was fueled by a great interest in music of all kinds, and a keen sense of what works.
But Greg was a musician in search of an instrument; until those powerful life forces worked again when he found the lethal combination of computers, midi and synthesizers. After completing a short spot for Glass Growers Gallery, Greg was hooked. It took months to compose his first instrumental, but once complete, he knew his life would never be the same.
So it comes as no surprise, the release of the CD "The Seasons", is a dream come true for the composer. With this music, Greg has created emotional imagery that reflects on actual encounters with mother nature. The compositions were written for the art of modern dance and draw from a number of sources, including jazz, classical and new age. This is uplifting, thought-provoking music that elicits a calming effect with the listener.
Included in this CD is the suite "Images of Home", commissioned to celebrate Erie, Pennsylvania's 200 year Bicentennial. Two of the three tone poems included in the suite were choreographed and performed by Sandra Brown of Baryshnikov's American Ballet Theater. The CD was featured on WQLN (Erie's PBS radio station); and the artist was the subject of a feature article in Showcase, Erie's premier arts and entertainment guide.
Greg has also written music for computer animations, commercials, video and children's stories, and is still very active in the arts community. He formed "Computer Tools for Arts and Music" (CTAM), and "Festival of the Arts Computer Time" (FACT), to promote the use of computers as a tool for the independent artist of all ages.
Finally, the powerful forces in Greg's life have been unleashed. Dare to be a witness!
STORY LINES:
"FALL" COPYRIGHT 1997 BY GREG ZBACH; May 12, 1997, December 27, 2000
My favorite season – winds twirling the leaves like tiny twisters. Feel yourself turning with the wind, arms outstretched, and losing yourself in the moment. And let us not forget about the unique smells, like ripening grapes and damp leaves. I always feel invigorated in the Fall. It reminds me of going back to college after a long lazy summer. I love to see geese in a "V" formation, and hear their haunting sounds.
"WINTER" COPYRIGHT 1997 BY GREG ZBACH; May 12, 1997, February 21, 2001
Looking outside in the morning, after a night of snow; it all looks so distant, frigid, isolated and desolate. After getting out into the snow, the reality of what happened last night sets in. Things are much clearer now, very brisk. Once you start moving thru it and looking at the quiet beauty; maybe it is not so bad. This is cool! You start having fun, and turn what looked like a bad day, into a day to remember!
"SPRING" COPYRIGHT 1996 BY GREG ZBACH; May 8, 1996
Spring is my second favorite season. This is a great time for hiking, with the clean, fresh air and very few bugs. And it feels so good to get out after being cooped up for the winter. Spring is also a good time for a new relationship and, of course, one of my other favorite things; rain and thunderstorms. The dance piece, "Spring", was written to celebrate this beautiful time of the year. It is written in three parts:
"Winter's Last Breath"
"Signs of Spring"
"Spring Fever"
Winter is finally receding, but the possibility of striking one last time, haunts us. As winter finally melts away, the signs of spring begin to bloom all around us. The fresh clean smell of new plant life; the songs of birds, sunny days with mild temps, and ominous thunderstorms; and the distant sounds of peepers in wetlands at night. But be careful! Once spring gets into your system, it catches on like a fever. You want to run free, twisting and twirling through a field of flowers. There is no turning back now.
"DAWN" COPYRIGHT 1992 BY GREG ZBACH; March 3, 1993
"Dawn" is a simple tone poem conceived for dance, and based on a personal experience. On a day off last summer, I was up before sunrise to witness the night, in all it's mysteries, slowly dissolve as the magic of the sun created a brand new day. A feeling of peace came over me, as the warmth of the sun touched my very soul. I was left with a renewed awareness of what life is really all about. The simple moments in life are the sweetest. When I composed "Dawn", I concentrated on melody and form, to recreate, in music, the imagery and feelings of my unforgettable encounter with nature.
"RAIN DANCES" COPYRIGHT 1994 BY GREG ZBACH; April 12, 1994
I have always been fascinated by thunderstorms and there seemed to be an exceptional amount of storms in June and July of 1993. Over the years I have observed that a number of distinct phases occur with our natural surroundings when a storm progresses. This closely parallels what we as humans experience when personal storms pass through our lives. This beautiful/electrifying transformation is the inspiration for the tone poem "Rain Dances". On a typical lazy summer afternoon you can hear kids playing in the distance and a warm breeze kicks up now and then. Not a cloud in the sky, yet its hazy and humid. You slowly become aware of very subtle changes around you. The breeze stops, birds start acting up, and the air takes on a different smell. You start to feel anxious and you are not sure why. The wind picks up again and clouds start moving in. That peculiar smell gets stronger. The clouds get darker and off in the distance you can hear thunder. You know your in for it! The thunder moves closer, the clouds get darker, and a few raindrops fall, stopping just as quickly. The kids are called in just in time as the rain starts up again. Thunder sounds like it's right above you, and the rain builds slowly. The rain backs off for a minute, than a cloudburst occurs, spreading like sheets of rain. It has a rhythm all it's own. The rain eases up a bit, and the thunder is now heading away. The storm has a cleansing/soothing effect, cooling and clearing the air. The rain slows, then stops, and life gradually comes back to normal, but with a renewed spirit. The children are out playing again as a rainbow briefly appears over the horizon. The sun comes out signifying a bright new day.
"NIGHT SOUNDS" COPYRIGHT 1994 BY GREG ZBACH; November 15, 1994
Night has also fascinated me over the years. When I was young I would hang a microphone out of my bedroom window and fall asleep listening to the sounds of the night, using headphones and a homemade miniature amplifier. The tone poem "Night Sounds" attempts to recreate these feelings by portraying the approach of evening, a spectacular Erie sunset, the rhythmic sounds of night life, and the eventual drifting off to dreamland. After a long hard day, evening approaches, offering a chance to relax and reflect. Witnessing a spectacular Erie sunset, the day slowly gives away to night and all that was once clear is now shrouded by a blanket of darkness. Sounds that are normally background are now bigger than life. The haunting sound of a train in the distance, people walking and talking, the rhythmic sounds of crickets and the whine of a motorcycle. At first, the approach of night is like a second wind, but eventually the sounds of the night have a calming effect. The tension of the day ebbs away as a peaceful feeling takes over. Sleep offers a chance to escape the problems of the day for a little while, bringing a promise of a new and better day ahead. Finally, the sounds that surround you fade away as you slowly fall asleep, drifting off to dreamland.